Zerodraft has the experience and capabilities to insulate your walls by removing siding. We can remove your siding, install wall insulation, then put the siding back on. 
Zerodraft can install various types of wall insulation for siding, including:
Insulated vinyl siding,
Clapboard insulation,
Cedar shake insulation,
Aluminum insulation
Types of Wall Insulation: Aluminum Insulation
Aluminum insulation offers flexibility and unique benefits. Aluminum insulation is built to last, especially considering its light weight design. Aluminum insulation is also thermally reflective, meaning that aluminum insulation blocks radiant heat. Aluminum insulation is nontoxic, recyclable and affordable.
Insulated Vinyl Siding
Insulated vinyl siding improves your home's energy efficiency. Insulated vinyl siding also limits heat from escaping your home. This reduces what is known as thermal bridging. 
Beyond home comfort, insulated vinyl siding can improve the look and durability of your home's vinyl siding. While vinyl siding normally can be pushed in when pressed on, insulated vinyl siding makes the siding more solidified. 
We Also Provide Wall Insulation for Clapboard Siding and Cedar Shake Siding
In addition to insulated vinyl siding, Zerodraft is experienced in installing wall insulation in homes with many different types of siding. 
Zerodraft can install wall insulation in your home if your home is built with clapboard siding. Our experienced professionals understand what needs to be accounted for when installing wall insulation for clapboard siding.
We also have the capabilities to install wall insulation for cedar shake siding. If your home is made with cedar shake siding, experience energy savings and enhanced home comfort with wall insulation from Zerodraft. 
Schedule a Free Evaluation for Wall Insulation for Your Home
Wall Insulation for Brick Homes and Buildings
Many owners of brick homes and buildings in Syracuse and surrounding areas have been told over the years, that insulating their exterior walls with cellulose is not feasible or not possible; or just too expensive. Many companies have insulated with injection foam, which is typically a water-based foam insulation product that is often susceptible to shrinkage and therefore loss of R value.
Zerodraft has even used injection in the past, all the while seeking a better way to insulate empty brick walls. Over the years Zerodraft has made a practice of leading the way in methods and processes with the goal of savings customers money and energy!
Its latest advancement in cellulose, dense packing includes the development of a reliable and demonstrable technique for applying dense packed cellulose to the exterior wall cavities commonly found in modern brick homes and other brick buildings. This means that Zerodraft can at last offer help to the owners of these homes, who previously have had to accept drafts, chills and higher energy costs. Plus Zerodraft is able to insulate the walls without leaving unsightly, discolorations or work traces, while preserving the overall aesthetic appearance of the exterior walls.
As one customer put it "Zerodraft insulated our brick walls, which three other guys said couldn't be done, and you can't even see where they did it!"
Improved Comfort, Improved value Plus Energy Savings – with little or no exterior impact to your brick home or other brick building is now available with Zerodraft.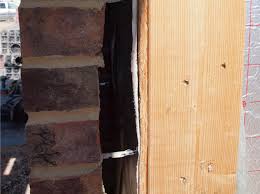 This cross section shows a typical modern brick wall. Zerodraft is able to access the inner wall to dense pack cellulose into the inner wall, through the brick and wick wall, without impacting the function or aesthetics of the exterior brick wall.
Some contractors insist on treating brick walls from the inside or worse yet, removing entire bricks or drilling 3 inch holes but Zerodraft is able to properly insulate brick walls with a small 3/4 inch hole in the mortar between bricks with no damage to the brick and barely a trace afterwards! See before and after images of a recent brick insulation project: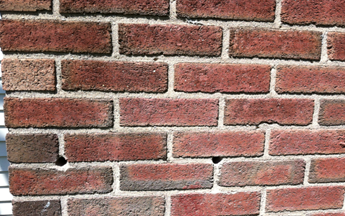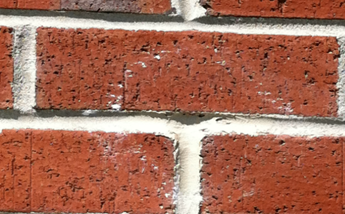 Schedule a FREE evaluation for your brick home to see if dense packed cellulose insulation is right for you.